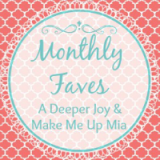 Hello there! This is my first link up with my dear friend/SIL
Make Me Up Mia
! She posts monthly on her new favorite items and I thought I'd join for October! See her post
here.
Here are a few of my favorite new things!
BEAUTY
Mia gave me this to use for blending concealer but also told me some people use it for applying their foundation. I tried applying my foundation with it and love it so it's now a part of my routine.
FOOD & DRINK
I was out and about on Halloween so I stopped by the store to get some "spirits"...haha, get it? I saw this and had to try it. It was delicious! I like almost any wine but this one is a good one for those sweet wine lovers.